Pinnacle Dryers - P3-12S Surface Mount Dryer
The P3-12S is a touchless, surface mount hand dryer. It is automatic, vandal resistant, dries hands in 12-15 seconds, and comes with a 10-year warranty. This model extends 4" from the wall when installed.
Request A Quote
Specs

Motor:
Heavy-Duty, 7500 RPM, Double-Insulated, CSA & UL Component Approved

Power Consumption:
11 amps 1.25 KW at 120 VAC Nominal 

Fan Rotor:
Pressed, Galvanized and Electrically balanced delivering 150 CFM

Heating Element:
1000W heavy-duty, thermally protected to cut out at 85 C

Cover:
20 gauge stainless steel

Circuitry:
All new solid-state circuitry has completely eliminated all mechanical parts. Unit is activated by an infrared sensor when hands are placed in drying chamber. Dryer operates only when in use.

Drying Time:
Complete drying is accomplished in 12-15 seconds

Weight: 12 lbs.

Safety:
Five levels of over-temperature protection
Warranty

Pinnacle hand dryers have one of the best warranties in the market. That is because our hand dryers are well designed and made with quality materials.

We have a 10-year warranty on our mechanical parts. Our printed circuit board is under warranty for three years.  

Because our hand dryers are built to last, there is rarely a need to replace parts. But if needed, we ship both warranties and purchased parts within 24 hours.
Shipping & Returns

Orders of less than 10 dryers ship UPS Ground. Orders of 11 to 360 dryers ship by LTL Carrier and larger orders ship by Truckload Carrier.

Returns are accepted, less freight, and are subject to a 25% restocking fee.
Share
Request A Quote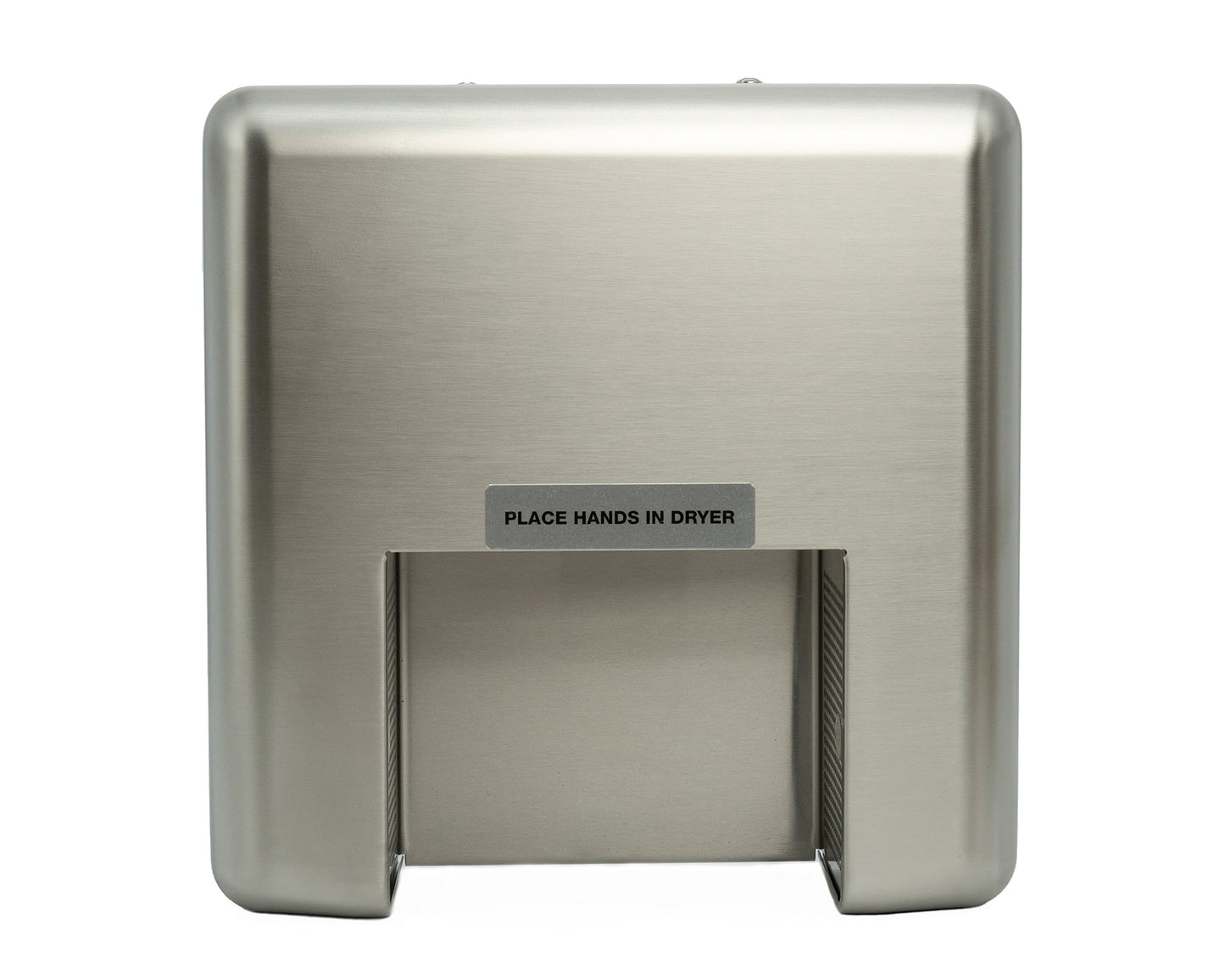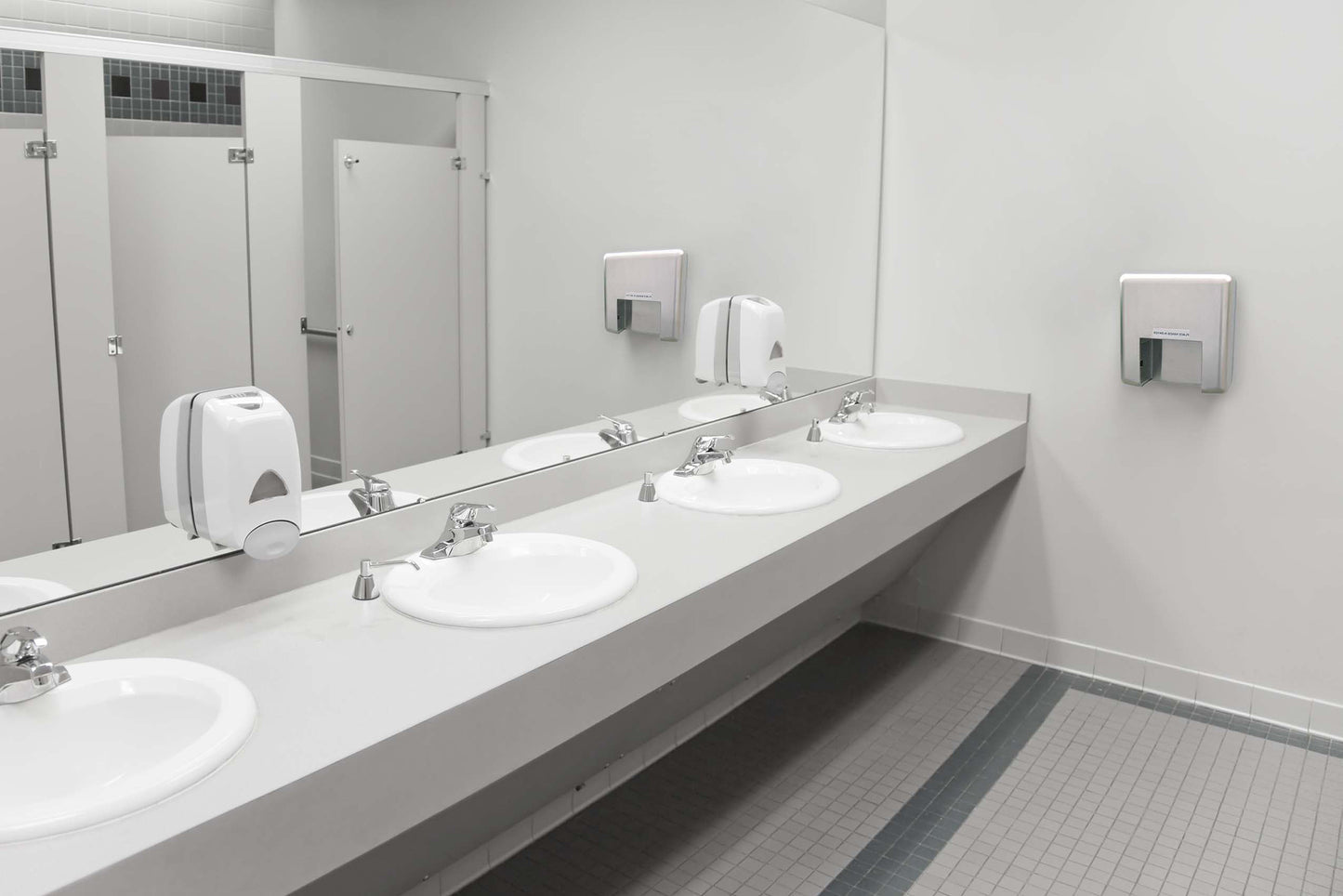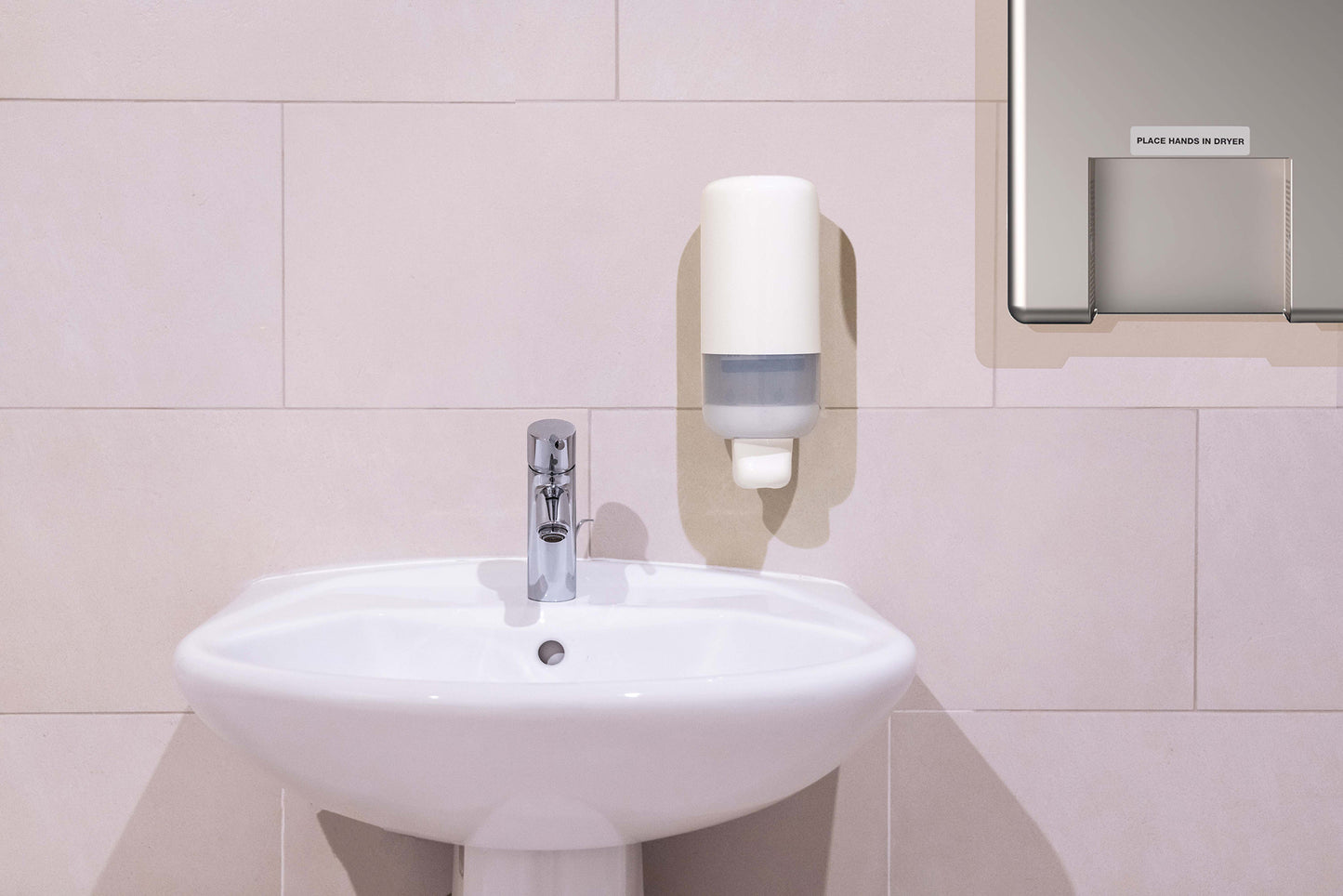 Request a Quote
Tell us about yourself, your organization, and your hand dryer application or installation. We will respond within one business day.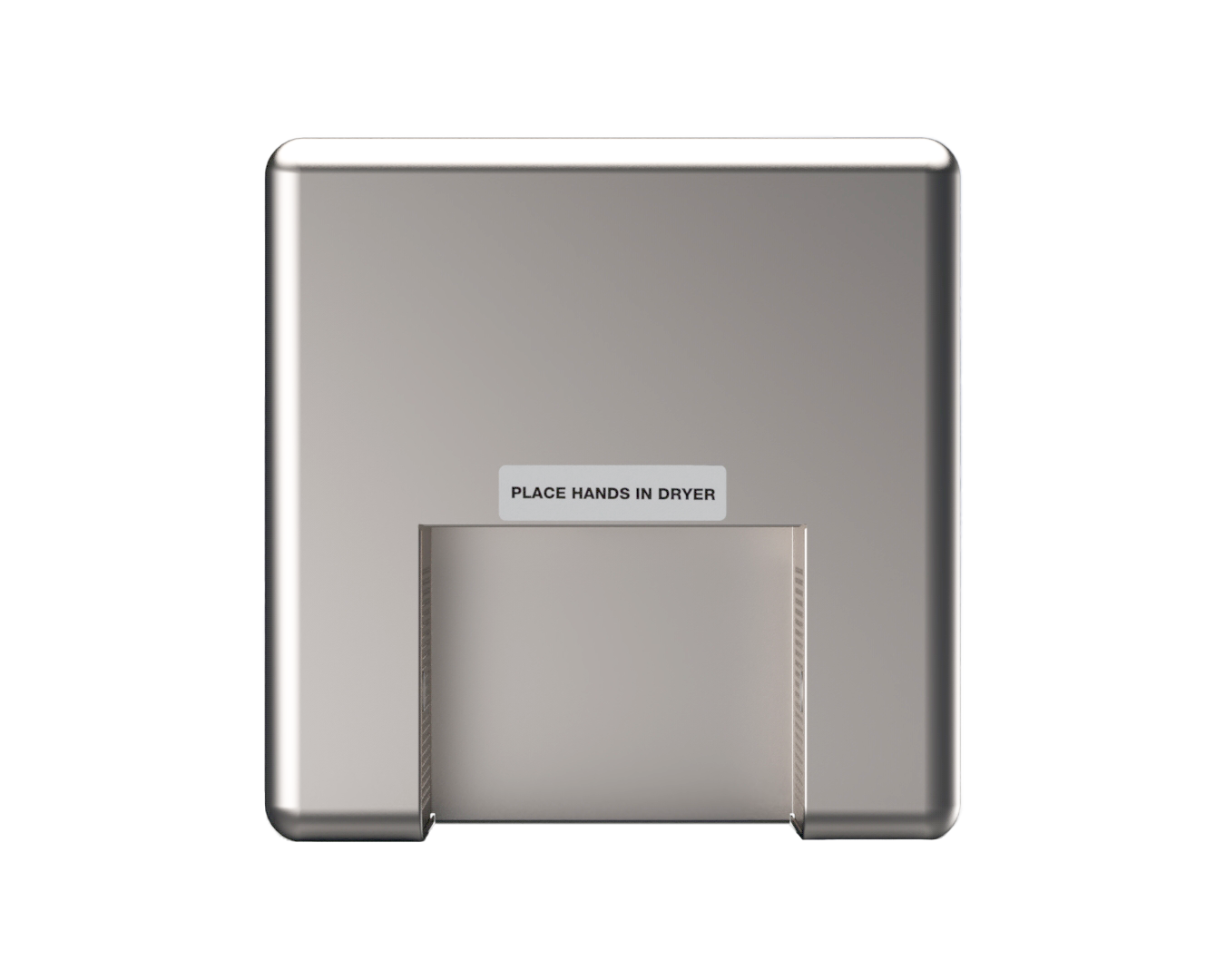 Attractive Design, Made in the USA
Our hand dryers have a sleek design with no mechanical parts on the outside, are made of USA stainless steel, and are manufactured in North Carolina. All of our parts are also made in the USA and stocked in our warehouse. Having parts readily available makes it easy to quickly take care of our customer's requests.
Why Pinnacle?
Vandal Resistant

The Pinnacle P3-12S Surface Hand Dryer is made of stainless steel. With no exterior mechanical parts and minimal protrusion into the walk space, our dryers are not only vandal resistant, but they also allow more room in the restrooms.

Less Maintenance

Be done with your messy, paper-trashed restrooms!  Our hand dryers do not require daily maintenance, and you save $$$ when switching from paper towels. View an estimate of savings using our hand dryers.

Noise Reducing

Pinnacle hand dryers are quiet. At 80 decibels, our dryers are much quieter than the jet-style hand dryers. And because of the unique design, your hands dry quickly. We have customers that have replaced their jet-style hand dryers with Pinnacle hand dryers due to their quieter operation.

Greener Savings

Our hand dryers are automatic. The warm air blows when hands are placed in the drying chamber and stops blowing when hands are removed. There are no buttons to touch to activate the dryer and no other parts on the outside of the hand dryer.

ADA Compliant

Our Model PDC-R10 Recessed Hand Dryer fits completely in the wall. Our P3-12S Surface Hand Dryer extends less than 4" from the wall. Both are compliant with ADA regulations. All Pinnacle hand dryers are UL compliant.

Excellent Customer Service

We take pride in taking care of our customers. Our customer service is top-notch, responding immediately with quotes, dryer orders, and parts requests. All of our parts are made in the USA and we stock them in our NC warehouse.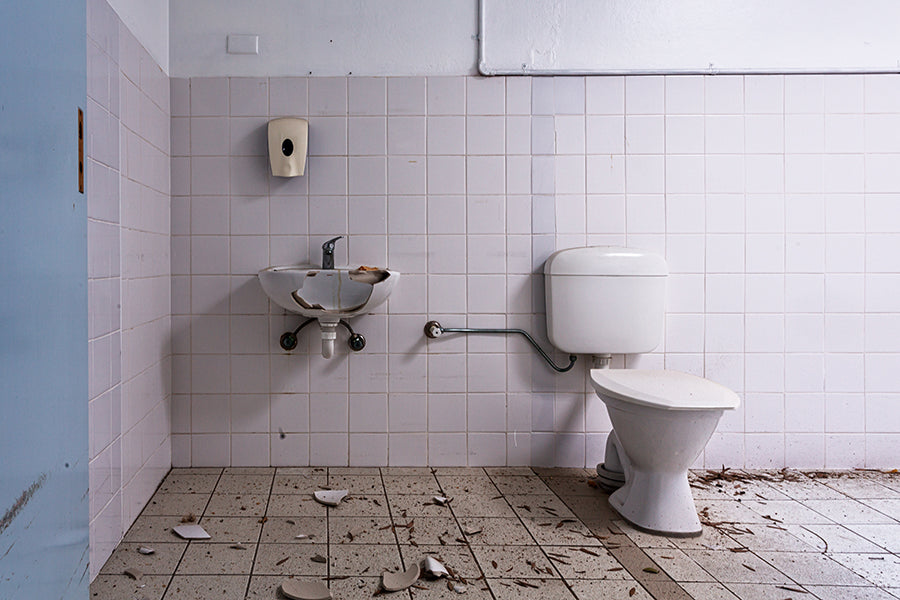 Pinnacle Hand Dryers are Vandal Resistant!
The Pinnacle P3-12S Vandal Resistant Surface Mount Dryer is made with a heavy-duty, damage-resistant stainless steel cover and is bolted to the wall with a 16-gauge galvanized steel base plate. This commercial hand dryer features touchless operation with an ADA-compliant footprint and 10-year limited warranty.
See What Our Customers Think!